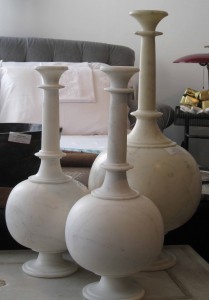 I met with my accountant last week. He works with different parts of the creative field, art galleries, photographers and fashion people, and his feeling is that things have improved slightly, but it's really still tough for everyone. This is the same message I got in Paris and South Africa and also from friends in Califiornia. It's sad that we keep getting hit with the blows – whether it's the oil spill in the Gulf or the problems with banks…it just seems that one is in this hole and at the moment you think we're on our way out of it, there's another hit and you just slide back down.
Even mother nature keeps throwing us curves like the floods that just took place in the US. One has to believe that there's a light at the end of the tunnel and that maybe someone just lowered the dimmer? It's hard to say. (I wonder who would want to be president of the US right now. It takes someone with great hope or guts.) And it's not that I'm down in the dumps, it's just that as a business owner you always have to keep your finger on the pulse and know what the temperature is out there so one can be realistic about how you run the business. When your head's in the ground like an ostrich, a truck can run you over. You have to be awake so you can keep going until the good times are back!
What do you think? Am I just a pessimist or do you feel the same?