I really can't remember when I became aware that Vicente's work was Vincente's work, but I have so many tear sheets in my files from the last twenty years that are his.  I am captivated by his point of view.  We met a couple of years ago at a party in New York and it was such a treat to find that he is as warm and personal as his spaces.  When I had the opportunity to visit with him recently, I asked him about a particular image in his latest book, Lifting the Curtain on Design.  
The bedroom pictured shows, to me, the sleight of hand of a successful designer.  Perfectly balanced, as though on the head of a pin, at first glance your brain may just register, "Yes, lovely," but deconstructed you can see that there are a lot of elements at play.  The bed is made traditionally with white sheets and damask, but the headboard is a rift on the expected with the side panels creating something of a cocoon.  Still, it is the composition of the bedside table that has inspired me to have the book open to this page on my desk for weeks.  The client is glamorous, says Vicente, and his germ of an idea began with the mirrored bedside tables of the '30s and 40's.  But rather than select just that, he designed a table of elegant but severe shape with antiqued mirror drawer fronts.  The back of the piece is left open allowing movement and light so it does not become a solid block.  And then, then, he has suspended an 18th century English mirror above it with heavy fishing line.  Not only is the placement of the mirror unexpected, but it maintains a lightness and an elegance.  There is a combination in this vignette of old and new, curve and line, silver and gold, mirror and glass, lucite and crystal and yet it reads as one unified vision.
"How do you come up with that, Vicente?" I queried.  "Well, you have to listen to your gut.  You just have to let it come.  It's like cooking; you are keeping a balance of flavors.  Nothing is beating you over the head – you are trying to create a sense of romance."  So the success of the space has relied on a few things: the designer's understanding of the client and her needs; the designer's vision, his instinct, his gut; and, and this is not unimportant though sometimes overlooked, his ability to execute, to communicate to his craftsmen what needs to be done.  If you can find all that in a designer, with or without the sexy accent, you are in for something really special.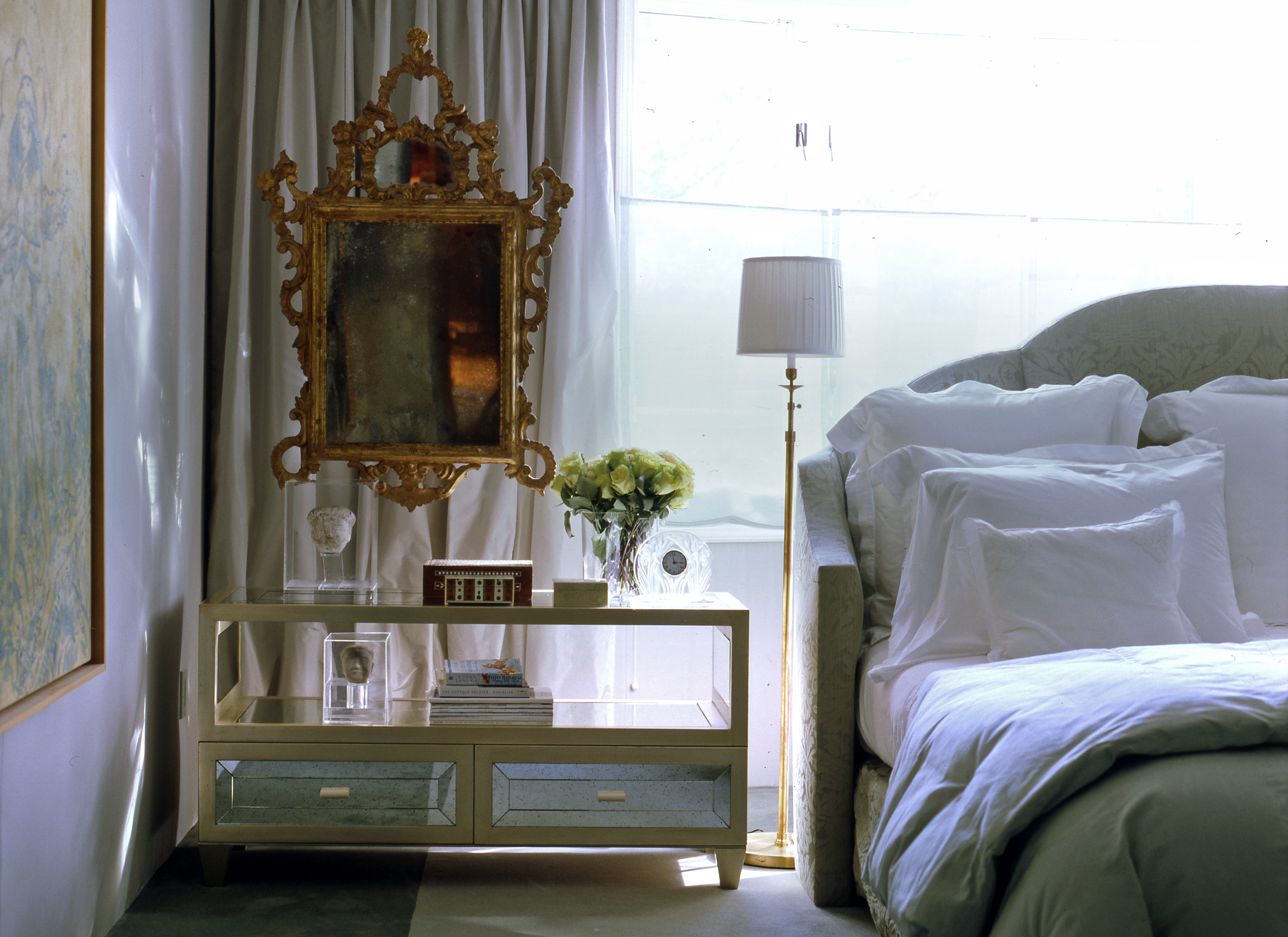 During my trip there will be a series of guest posts, I am so excited Mrs. Blandings was our first. Please check out her wonderful blog here.
- Vicente