From: Jane Ellison
To: info
Subject: I need you help, Vincente!
Hi Vincente,
I love your work and have all your books.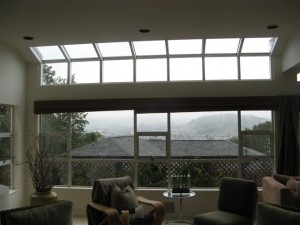 Just moved to this great house with wonderful sunlight but in the warmer months it is too much light(Southwest facing)…I know, complain, complain, complain
How would you dress this window so the skylight (knee window) and window below are the same treatment?
Need to block out enough light during summer months?
Thanks,
Jane Ellison
Vicente Responds:
Jane, most of us would kill for that much light!
Consider doing shades from the bottom of the skylight window to the floor – this can be in a gauzy fabric. And then do another shade to cover the skylight part (the fabric will form the base of a triangle with the two sides of the skylight window). Use a solid fabric in the same hue as the sheer shade for this one to block the most light. Get a window-dressing specialist to help you figure out the system so that it is easy to open up during the cold months.