From: Jennifer Ramage
To: info
Subject: Staircase design dilemma
Dear Mr. Wolf,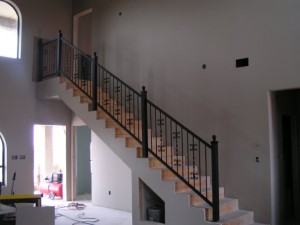 I am currently building my first house, and I am completely distraught over a design decision I have to make. Would you be willing to offer your advice? Your work is amazing, and I would be honored if you could take a moment to give your thoughts.
I have attached two photos of my current stair railing above. I am unhappy with both. My house is a two-story Mediterranean style home with a clay tile roof and stucco exterior. The staircase, when completed, will have talavera tile on the risers and Saltillo on the tops. I live only two miles from Mexico (in Texas), and because of my location I really wanted a design that reflected local culture. Instead, because of decisions my builder made without consulting me, I am faced with the choice of a railing that ends one step shy of the bottom of the staircase, or with something that I'm concerned looks "tacked on" and out of place.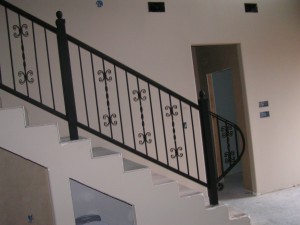 Because of the spindle spacing, the only solution I have been able to come up with is to add one spindle to the outside of each end of the middle section, stretching the length there while keeping the first and third sections on the staircase the same length. This would get rid of the "tack on" while bringing the rail to the bottom.
My builder is extremely irate about taking the railing down and redoing it, and now I'm not even sure that the solution described above will look right. My budget is fixed and I have to work with what I have to make this palatable. Do you have any suggestions?
Thank you so much for your time.
Sincerely,
Jennifer
Vicente Responds:
I'm not a person that believes in sets or everything matching. So the shape of the steps is so clean looking, very much in the Barragon style and that railing just has nothing to do with the rest of it. It's pseudo antique…So if one has to stay with what's there, what choice is there?
Glass would have been great so you could just see the shape of the tread and the riser. Wrought iron with movement to it would work well. If this was my house I would replace the railing. If you cannot do that at this time, I figure you will have to live with it for a while. Sorry I couldn't be of more help.