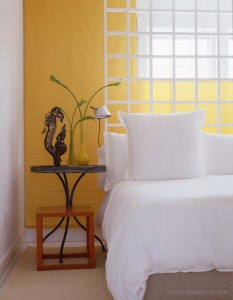 Name: Eric R.
City: Chicago
State: IL
Country: USA
 
Comment:
Happy Friday Vicente–
Window treatments: specifically, roman-style sheers. When you do a sheer, light-diffusing roman shade, do you go with natural textiles like linen & woven grasscloths or a synthetic like polyester? Thanks in advance for your functional & aesthetic thoughts on either or both.
Vicente Responds
Hi Eric-
 If a room has too much direct sunlight it can actually eat away at natural fabrics over time. For these rooms I suggest synthetic fabrics otherwise I prefer natural textiles.
Name: jackie denham
City: Fort Erie
State: Ontario
Country: Canada
Comment:
do you have some paint colour suggestions for a scottish theme interior design project
Vicente Responds:
Jackie-
If you are using traditional plaids or stones I would suggest going with Benjamin Moore Super White. I think it would be a fresh modern take on a traditional Scottish theme.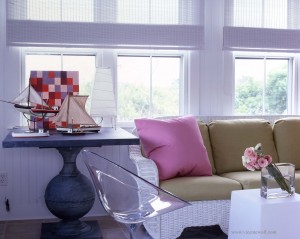 Name: Cathy Bybel
City: Naperville
State: IL
Country: USA
Comment:
You have mentioned using laminated linen on dining room furniture. I would love to use it as a tablecloth. Our children are young and it seems like that would be a huge timesaver and a lot more appealing than any of the other options I have located. Do you sell laminated linen in your shop? If not, do you have suggestions as to where I might find it. (Just found your blog recently and was so inspired I bought all three books. Your work and commentary very inspirational. Hope to see a book based on your project with Mr. & Mrs. M)
Vicente Responds:
Cathy-
 You should ring Trudi in my showroom, she will be able to help you. 212.244.5008