Archive for November, 2009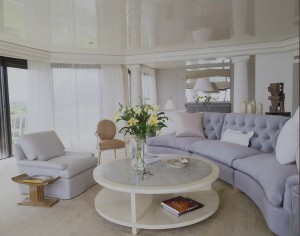 As the boss you have to suffer the slings and arrows, the fears of money going out and not coming in, the expectation of the phone ringing with a new client (or not!), but the other side of being in charge is that you are ultimately responsible for keeping your staff feeling that there's a light at the end of the tunnel. After all, one is the parent to the children in this equation and children get scared very easily, especially when they hear of problems all around them.
My way of encouraging is by trying to think of creative challenges that allows them to put their creativity to work – whether it is working on a charity event that we have to design a chair for, or working on a new tile collection or rethinking how we will move the office around to keep it working better, taking excursions to different museums to find inspiration in color and compositions, piling them all into a train to go to Philadelphia to see an art exhibition…we just have to keep the creative juices flowing.
I do try to still be realistic with them about business, keeping them abreast of what's coming up, what worked and what didn't so they feel that they're in the loop. As a business owner in a creative industry, payment can come in many different ways – everybody here is working towards the future and if you can help them to expand their range of vision, that can be an enormous compensation. Thank God it's not wall street where it's all about the buck! This is about seeing beyond what's in front of us and letting our imaginations be free and at the end, you start to lift up your own spirits as the boss, because we're creative people as well and we get to tap on our positive sides.