Archive for September, 2009
A Reader Asks:
I think I've followed your work since the very first published room. Your style is very recognizable – even from a magazine across a room – and it is absolutely wonderful to my eyes. I know people lob around the word curated, but I think I'd prefer you to speak to us about connoisseurship and "the training of the eye" that is so lacking in many of the interior designers that are published today. This to me is all about self-education and a knowledge of the world's cultures and design histories. So few interiors speak to the mind that assembled them and do not stand the test of time. What's your secret to a sense of timelessness? Thank you.
Vicente Responds: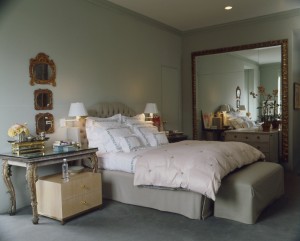 Maybe because I have no formal education I have always put myself in situations where I was able to start to cultivate a point of view, whether it was walking through a museum and picking paintings that I liked and exploring why I liked those particular items, or looking at periods of rooms and deciding what I liked and disliked. I've always analyzed my answers and thought about why certain things appeal to me and others don't. I've never tried to over-think my creativity.
I'm a firm believer in going by my gut and so on one side refining my visual experiences through travel, museums, watching old movies and being aware of what's around me. Maybe that came from being a child that was very much a loner, so I became my own friend and the world around me had a dialogue with me that I collected experiences, visual information, references that, through the years, I keep applying to my work. Plus by having an enormous amount of travel behind me, I've helped to break the barriers of acceptable elements to use in my work and gained the freedom to not be limited to just the things that most people know, which can be English or French or Italian elements.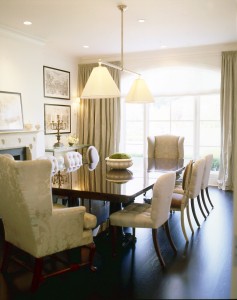 The more I've traveled, the more I have lost my inhibitions in creating eclectic mixtures of elements. There were never any rules – an advantage of having no formal education – so I made my own rules up based on what appealed to me. I never went by guidelines created by other people. You say timeless rooms and I think that the reason that they read timeless is because of all the different elements that are being brought into the space. It's not the look of the day, though there may be some elements incorporated into that, it is not a recreation of a particular period in time, though there may be elements of that period incorporated in there too, but there's nothing really nailing it to any particular period or style. There's a mixture of elements in upholstery from Edwardian to contemporary. There's a mixture in ethnic periods, but I'm really never trying to be in any particular era but the one we are living in right now. And all these elements are always put against clean, sharp, usually undecorated backgrounds where the architecture can come forward in a very fresh way. Backgrounds are clean canvasses where all the elements play against.